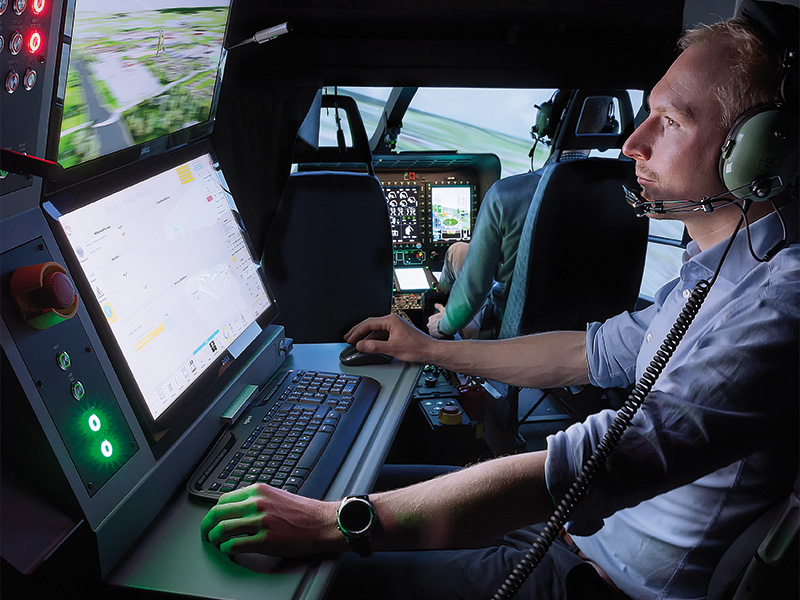 REISER SIMULATION AND TRAINING SUCCESSFULLY PASSES HELIONIX® STEP 2 QUALIFICATION @ADAC HEMS ACADEMY, BONN
Bonn-Hangelar, Germany June 29th, 2018
German National Airworthiness Agency LBA qualified the H145 Full Flight Simulator at ADAC HEMS Academy in Bonn Hangelar with its latest Avionics Standard Helionix® Step 2.
This includes the Synthetic Vision System (SVS) as well as the Helicopter Terrain Awareness Warning System (HTAWS).
Reiser's Full-Flight Simulator meets EASA, FAA and ICAO Level D compliancy with maximum modularity for simple maintenance and flexible cockpit re-configurations. The simulator has 6 DoF electric motion and vibration system, a direct projection dome display 240º x 80º with dual channel LED projectors, NVG stimulation supporting real NVGs of different types. The intuitive on-board IOS with briefing, debriefing and scenario creation functionalities allows the instructor to entirely focus on the student. With the worldwide database including customer specific high resolution insets, several Level D compliant airports and more than 25.000 generic airports paired with computer generated airborne, ground, naval and human entities as well as a highly detailed street network with moving traffic, HEMS and military training is addressed in a new degree of realism.
About Reiser Simulation & Training
Reiser Simulation and Training GmbH is a family-owned company founded in 1988. It has a proven track record in sophisticated simulation training devices and comprehensive training services for pilots and technicians of the leading-edge fixed and rotary wing aircraft such as Typhoon, Tiger or NH90. The company has built a solid reputation through its understanding of its clients' needs, and applying extraordinary quality standards and manufacturing to the most reliable products of its class. More information can be found at www.reiser-st.com or on Twitter@ReiserST.
Press Contact
Reiser Simulation and Training GmbH
Ms. Andrea Ehrl
Marketing and Communication Manager
Oberer Luessbach 29-31
82335 Berg, Germany
Phone: +49 8178 8681 183
e-mail: andrea.ehrl@reiser-st.com